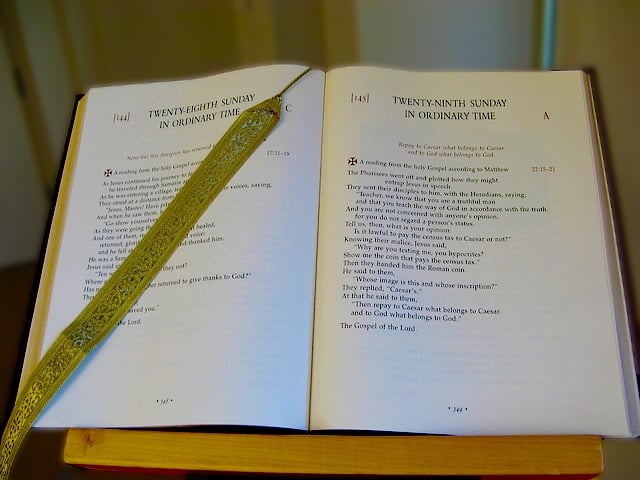 "When this word is proclaimed in the Church and put into living practice, it enlightens the faithful through the working of the Holy Spirit and draws
them into the entire mystery of the Lord as a reality to be live
d." (Introduction to the Lectionary, #47).
The Lector serves the liturgical assembly by proclaiming the sacred scripture during the Liturgy of the Word. Lectors bring the living word of God to the assembled faith community. When the Scriptures are read in the Church, God himself is speaking to his people.
Two Lectors at St. Mary's are scheduled to read at each Sunday Mass. Effective proclamation involves the delivery of the message with clarity, conviction and appropriate pace. The Word of God is not merely read, it is proclaimed.
Skills and Qualifications
- Is a baptized member of the Catholic Church who has been duly prepared and appropriately commissioned for this role.
- May be any age, as long as she/he has sufficient skill and maturity to serve the liturgical assembly in the way outlined here.
The community's need for a clear and thoughtful proclamation of the Word is always the guiding principle.
- Is devoted to and understands the importance of the liturgical celebrations of the Church community.
- Possess the natural and spiritual ability to speak the biblical Word intelligibly and comfortably in the midst of the assembly.
- Has participated in a training process on reflecting on the theology of the Liturgy of the Word as found in the Lectionary.
- Has been installed as a Lector by St. Mary's Parish.
- Possesses a love for the Bible and a desire to share this Word with others as well as a willingness to grow in understanding the scriptures through study, prayer and reflections.
- Needs to be flexible, enthusiastic and possess good public speaking skills.
- Must possess a spirit of generosity and a natural predilection to work well with others.
For more information contact the Parish Office at (705) 728-2985.