Ministry with Maturing Adults
Christian Meditation meets weekly, online. The next session is on Tuesday, June 22nd at 10:30 a.m. This ancient form of Christian contemplative prayer invites us into a time of sacred silence. All are welcome. If you are new to Christian Meditation and would like some information or if you would like the link to the meeting please email Catherine Ecker (cecker@archtoronto.org).
Ministry to the Hospitalized
If you or a family member are hospitalized please contact the parish so you or they may receive a pastoral visit.
EVERY CHILD MATTERS
We are profoundly saddened by the discovery of the remains of at least 215 children at the former Kamloops Indian Residential School on the Tk'emlúps te Secwépemc First Nation. Many people including the Catholic Church failed the children and their families. Those entrusted with the administration of the residential schools failed to respect the dignity of all people and to proclaim the Gospel of mercy, love and compassion.
Following the discovery of the remains we have seen memorials set up as a sign of our grief and solidarity with the Indigenous people. A memorial assists us in beginning to process the horror and grief. We must acknowledge the pain, the wrong doing and continue to pray for healing and justice.
We must put prayer into action and be engaged in working for justice for all Indigenous people. You are invited to bring a brand-new pair of children's shoes or boots to the parish. You may drop off the new shoes in the parish hall during the week or before any Sunday / Saturday Mass. We shall ship the new shoes to an Indigenous community.
A MOST GENEROUS GIFT!
Gift Funds Canada is a registered public foundation that holds and manages endowed Charitable Gift Funds for individuals and organizations across Canada. A SINCERE THANK YOU to The Rita and Murray Leddy Gift Fund who generously donated $10,000.00 to The Society of St. Vincent de Paul.
JUNE IS SENIORS' MONTH IN THE PROVINCE OF ONTARIO
We thank God for the many parishioners in the second half of life who contribute to the health of our parish and community. We thank God for the presence of the elderly who in our community and pray for all who are for our senior members at home and in long term care facilities. At each Sunday (Saturday evening) Mass on June 20th we will pray a special blessing for all members of our parish who are in their second half of life.
You are invited to check out the virtual Senior's Fair being hosted by the Barrie Public Library. You can find out more information by visiting https://www.barrielibrary.ca/programs-events/seniors'-fair and clicking on Events!
Wedding Anniversaries: Living and Celebrating the Sacrament of Marriage
The expression a wedding lasts a day a marriage lasts a lifetime highlights the importance of celebrating and living marriage vows day after day. The married couples in our parish are a sign to us of God's faithfulness and through their witness we are strengthened. If you celebrated a wedding anniversary in June we shall pray with you and share in your joy at all Sunday (Saturday evening) Masses on June 26th and 27th. We thank God for the gift and witness of the of the married couples in our midst.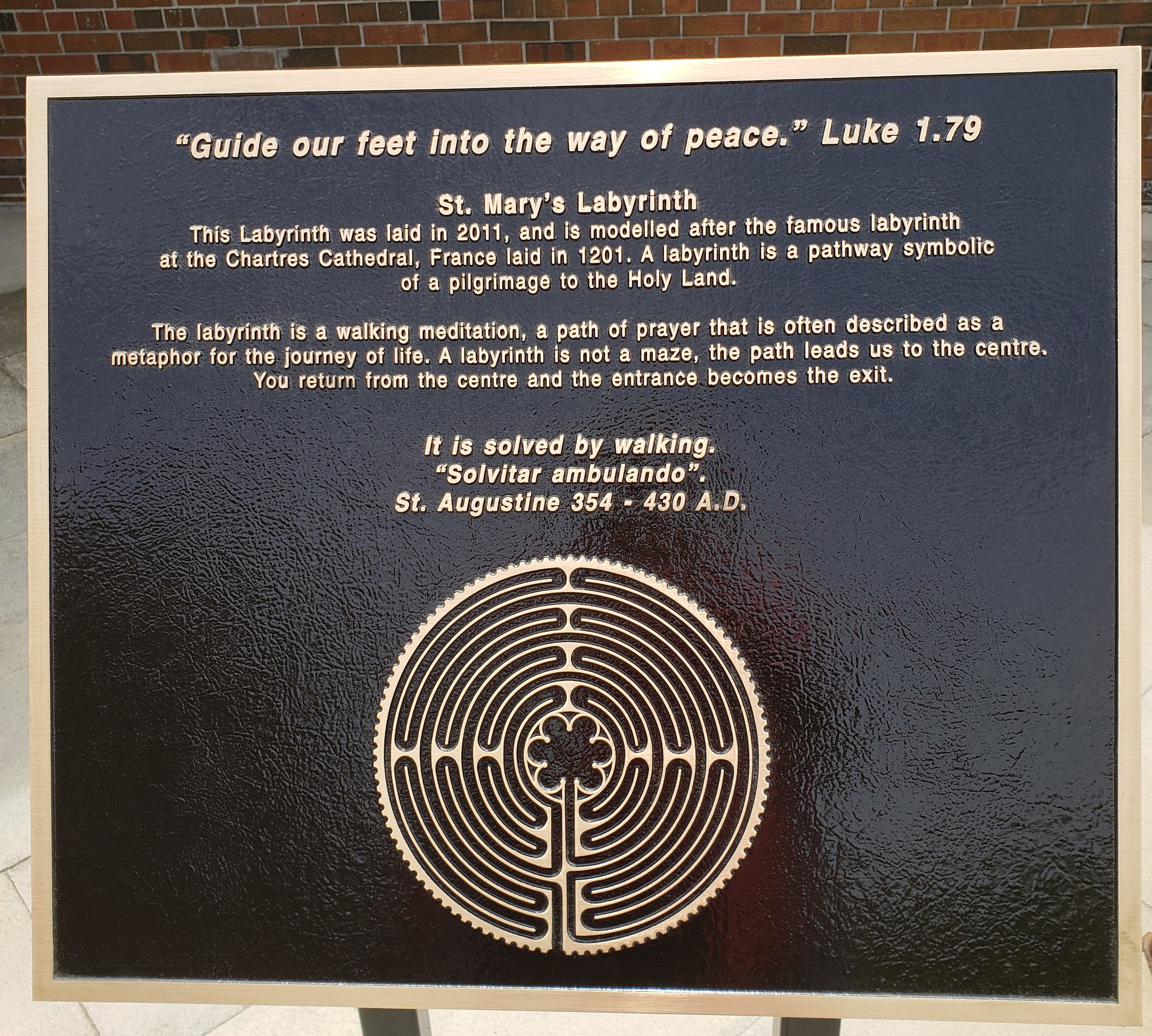 Our Labyrinth
As part of the 2010 renovation project a labyrinth was laid in 2011. The labyrinth is located directly in front of the main doors of the church. It is 43 feet in diameter with 8 circuits. Four benches are placed on the perimeter of the labyrinth. A labyrinth combines the imagery of a circle and a spiral. A circle is infinite that God's love and a spiral draws us deeper into our relationship with God. A labyrinth is often called a walking meditation.
A labyrinth is not a maze, you cannot 'get lost' in the labyrinth, when you reach the centre you then walk out and the entrance becomes the exit. If you would like to learn more about walking the labyrinth please contact Catherine Ecker at 705 728 2985 ext. 115 or Email:cecker@archtoronto.org
Completing the Preparation for Confirmation
All families who have chosen to complete the preparation for Confirmation are reminded that the candidate and sponsor are to attend one session. If the sponsor cannot attend the parent is to be present. Please take note of the date and time, if you cannot attend at the assigned time please come to the other session. Please arrive ten minutes before the session is to begin.
Thursday July 15 7:30 – 8:30 p.m. Surnames A – M
Tuesday July 20 7:30 – 8:30 p.m. Surnames N - Z
Confirmation will be celebrated in August.
When at the church please practice physical distancing and wear a mask. If you have any questions or concerns please contact Catherine Ecker cecker@archtoronto.org or phone 705 728 2985 ext. 115.
NOTICE!
MARY'S BIBLE CAMP, JULY 5 – 9, 2021 IS FULL!
Thank you to all for your support.
We look forward to a wonderful in-person camp.
YOUTH MINISTRY - LIFETEEN
Join us on Sunday, June 27 after the 4:00 p.m. Mass for an in-person camp fire on church grounds.
This is our final get together. https://stmarysba.archtoronto.org/en/parish-life/our-ministries/ministries-p-z/youth-ministry/ Questions? Call Shannon Barks at 705-229-7426.